The best site to create a blog that you will choose is not a choice to be made lightly because it will have a significant impact on how it will evolve during the next months and years.
There are many reasons for wanting to start a blog. Maybe you want to practice your writing or connect with people who think like you. It may also be that you have a business and that your texts serve you as marketing content.
What is particular is that there are many platforms available. I have grouped below some of the best sites and platforms for blogging.
In any case and whatever you choose, I prefer not to use a blog creation site but rather to host my wordpress.org blog myself on a host with, for example, Hostinger.
Choose the right blogging platform.
Before making your choice and throwing yourself head down on a platform, I invite you to read the following 6 points:
1. The purpose of your blog
Are you looking for a site to create your blog for fun or to monetize it and make a business of it? The two are very different, and the choice of platform you choose will determine the functions to which you will have access.
2. Your target audience
You probably have a rough idea of ​​the type of person you are going to write about for your blog. Some may be attracted to particular blog formats and platforms. A little research on the preferences of your audience will help you make your choice.
3. What types of features will you use?
It is better to choose a blogging platform that will evolve with you, and as your blog grows. You have to be ready to start and that the platform is flexible enough to add the desired functionalities and tailor-made if necessary. For example, you might decide at some point to advertise or sell products.
If your blogging platform does not offer this functionality, you will have no other choice than to change platforms, and that is not so simple. This is why it is essential to think about all the features that you could potentially need afterward.
4. Are you comfortable with computers?
Have you ever created a website before? If yes, you will be comfortable with a blog creation platform whose implementation requires little technical skills. For your blog to be in your image, it will be necessary to know how to modify certain parameters.
If you don't have the time or the desire to learn, you can always choose a platform that will do everything for you, but say goodbye to personalization in this case.
5. What is your budget?
If you want to create a blog for free, you should get started on a platform that offers free plans like WordPress.com, Tumblr, or Blogger. However, I do not recommend that you assume that you will not pay anything because you will be very limited in terms of functionality.
That is to say, no custom domain, few parameters, not many designs, and not necessarily access to customer service.
6. Do you have a design in mind?
Perhaps you already have a clear vision of what your blog will look like. In this case, you should choose a blogging platform that allows you to customize the full design without any restrictions, and that allows the purchase of premium and custom themes.
Best sites for blogging or Best Sites To Create A Blog
Below you will find the best blog creation sites and platforms. The first solution is different from the others since you will have to host your blog yourself.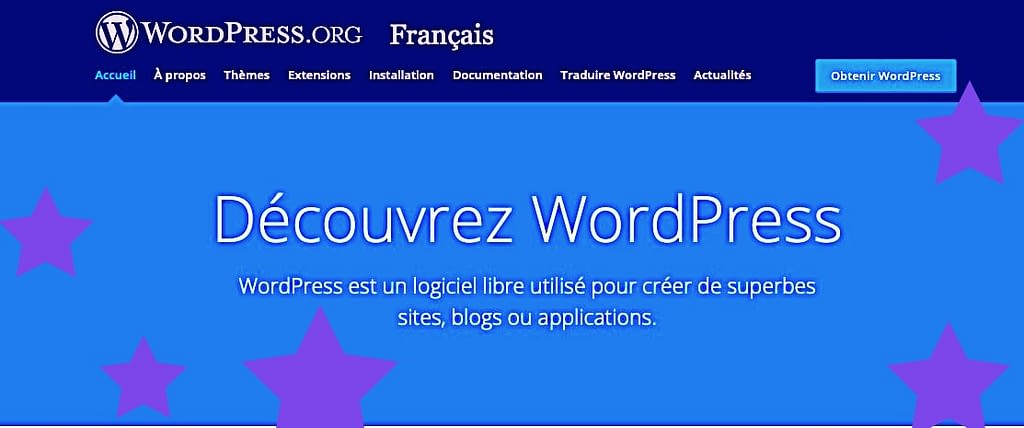 Among the best platforms for blogging, the self-hosted version of WordPress is by far the most popular in the world. WordPress.org is often confused with WordPress.com, which we will see on the 2nd of this list.
In addition to being extremely popular in the blogging world, WordPress is also used by some large companies since it is possible to create any site.
You don't have to be a technology expert or have prior knowledge to start using it you will learn on the job.
If you know how to code it is all the better, it will be easy anyway to create the blog of your dreams thanks to the thousands of themes and plugins available.
You have full control over your blog; you can choose how to monetize it, and if you have a problem with your host, you can migrate your blog without a problem to another one. Besides, most hosts will migrate your blog for free.
The use of wordpress.org is recommended for serious bloggers or beginners who have a real project in mind, for those who want total control of their blog and who plan to make money with it.
Installing worpress.org on a server is relatively easy, all you have to do is register with a host that will install WordPress automatically for you (example: Hostinger )
If you want to know in detail exactly how to do this, follow my complete guide on how to create a blog in 6 steps.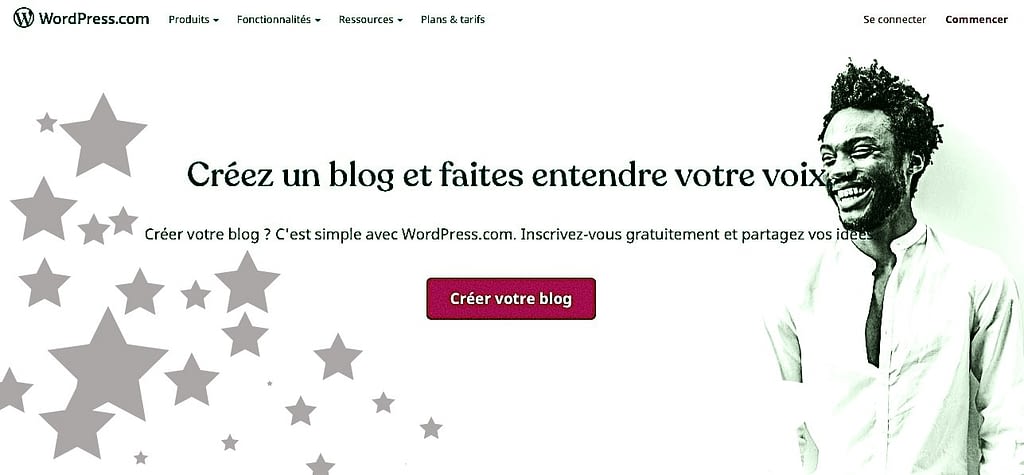 WordPress.com is different from the very famous WordPress.org, which we talked about first. Your blog is hosted on WordPress.com. You are subject to their rules and limitations. With their free formula, you will have advertisements on your website and will have no possibility of putting yours.
WordPress.com can be a good blogging platform for you to enter the world of blogging. But for people who want to turn their blog into a business, this is not ideal.
WordPress.com is simple to use, and almost everything is taken care of for you, such as security and hosting, it's normal since you create your blog with them.
You can switch to one of their paid plans to have more personalization (themes, plugins) on your blog, but the price to pay is high, especially if you compare it to using wordpress.org on a host that gives you more freedom.
Its use is recommended for bloggers who want to try WordPress or new bloggers without experience.
If you do not know what to choose between this WordPress or the one which is in the first position of this list, you must know the differences between wordpress.org and .com.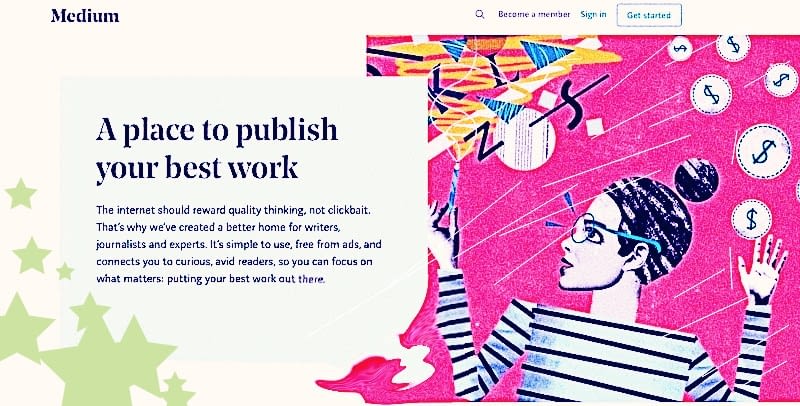 Medium is a unique content publishing platform very different from the previous options. It is, for example, possible to make a particular article only accessible to those who have a Medium subscription, which allows you to pay a little.
Medium is an excellent way for a blogger to share content with a new audience without any technical skills. It's very easy to use. You have to write.
Before, they offered a custom domain name feature, but then they started charging and ended up completely disabling the option.
Medium is instead recommended for those who do not necessarily want to create a site but who only want a place on the Internet to share their content.
Medium's advantage is that you have direct access to the audience of Medium.com, and your blog will not be lost on the Internet.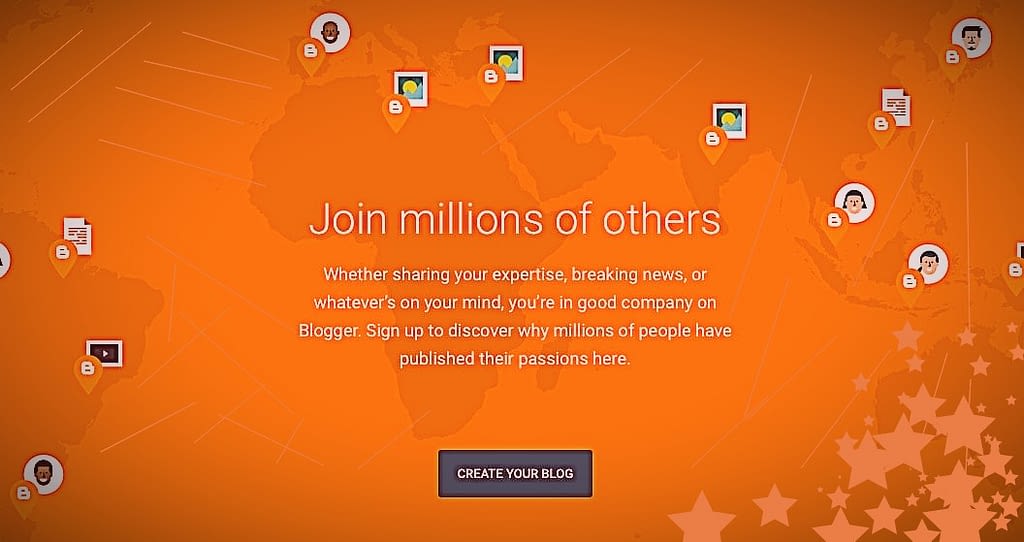 Blogger is a top-rated blogging platform among new bloggers. To register and create your blog on this site, you will need it… your Gmail address, and yes, Blogger belongs to Google.
Those who start their blog with Blogger more often than not end up going through something more in-depth. Indeed Blogger being free. You are sharply limited.
In free use, you will have the blogger subdomain in your site's address, which does not look professional. Fortunately, it is possible to pay to use a personalized domain name.
Since Blogger is owned by Google, you don't have to worry about security, updates, or anything else: you're safe (if you have a good password ).
I would say that Blogger is ideal if you want to share your ideas without any real financial goal. It is suitable for publishing its content on the Internet while remaining simple.
The fact that this platform belongs to google means that if you have enough traffic, you can earn money with Google Adsense, which will put ads on your blog.

Wix is ​​everywhere nowadays; I am sure that you caught yourself at least once an advertisement on youtube or elsewhere on the web. But is it worth trying?
You should know that the superb "drag and drop" that Wix has is not that unique, you will find many premium themes on wordpress.org with this same functionality. Besides, you probably won't need it to create your blog.
Its strong point is the creation of a site by assisting you to the maximum if you want to create a website with beautiful templates without technical knowledge Wix may not be bad. However, to create a blog, I would not make it my favorite choice, although the platform still offers this feature.
---
READ MORE POST>>
---
Conclusion
These are not the only platforms that offer the creation of a blog. Besides, many sites that you will find on the web are presented in the same way as Wix. In other words, website creation platforms (portfolio, e-commerce, etc.) allow, among other things, the addition of a blog.
The other solutions to create a blog will be: either to host it yourself on a host (what I preach with wordpress.org) or to use sites entirely dedicated to blogging as Medium, Blogger, skyblog, overblog, etc.
Each option has its advantages and disadvantages. Anyway, I strongly advise you to do like me, and all the most prominent bloggers on this planet and use wordpress.org (the first on the list).
It will depend on your personal choices and how far you want to take your project. If you wish to write to let off steam, it is useless nothing useless to take the lead with the creation and configuration of a professional blog there we agree.